Hash Brown Casserole
2014-03-13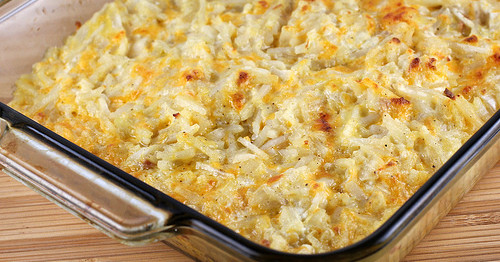 Prep Time :

10m

Cook Time :

40m

Ready In :

0m
Recipe provided by Holly Briere

Ingredients

1/4c butter
1/2 diced onion
1 diced sweet pepper
1 pkg of frozen hash browns
1 can of cream of chicken soup
1 package of Philadelphia Italian Herb cooking cream
1 1/2 cups shredded cheddar cheese
salt and pepper to taste
Directions
Turn the Ninja to Stove Top Medium and Melt 1/4c butter
Cook 1/2 diced onion and 1 diced sweet pepper for a 3 – 5 minutes.
Mix in 1pkg of frozen hash browns, one can of cream of chicken soup, and one package of Philadelphia Italian Herb cooking cream, salt and pepper.
Continue to mix until everything is spread evenly.
Turn the Ninja to Oven – 300 degrees for 20 mins.
Mix in 1 1/2 cups shredded cheddar cheese and turned the Ninja to Oven – 300 degrees for 15 mins