Review – Prepworks from Progressive International CRLR-3 Stainless Steel Lid and Spoon Rest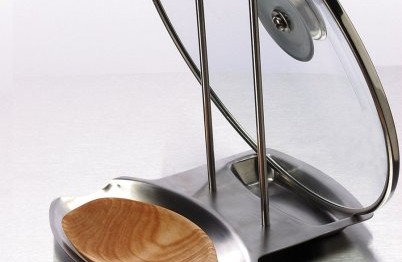 I am sure I am not alone, but when I am preparing a meal I am needing to stir in ingredients then I either place my spoon on a paper towel or place it on or in an empty ingredient carton, container or can. I have even seen my mother even place the spoon directly on the counter. I know some of us are cleaner cooks than others, but I try to maintain some sort of cleanliness while making dinner. I don't want to spend twice as long cleaning up than it took me to prepare dinner.  So,  I recently picked up the Prepworks Stainless Steel Lid and Spoon Rest.
The Prepworks Stainless Steel Lid and Spoon Rest has a place to set your spoon, spatula or your utensil of choice. It also has a place to prop your lid while you tend to dinner or add additional ingredients.  Generally after things are cooking in the pot, moisture builds up on the inside of the lid.  When you remove the lid and place it down all that moisture falls on your counter, cookbook or whatever is underneath it. This Prepworks Stainless Steel Lid and Spoon Rest allows you to prop the lid up and has a nice area to catch whatever moisture would generally fall onto your counter.
When you open your Prepworks Stainless Steel Lid and Spoon Rest you will have the metal U shaped bar and the main base piece, along with two wing nuts.  It is extremely simple to put together. Just push the U shaped bar into the holes on the base.  Screw on the wing nuts from underneath. So simple and you are ready to go!
So far, I would recommend this to any cook.  It is extremely handy, inexpensive and easy to clean.
Currently it is only $11.67 and ships free to Amazon Prime members.
Read more reviews or purchase it here! http://amzn.to/1JsjSQH
For those that prefer visual presentations of items.  I also did a video review of the item.  Check it out below.
Thanks for reading!