Ninja Pizza Recipe – Easy
2014-03-28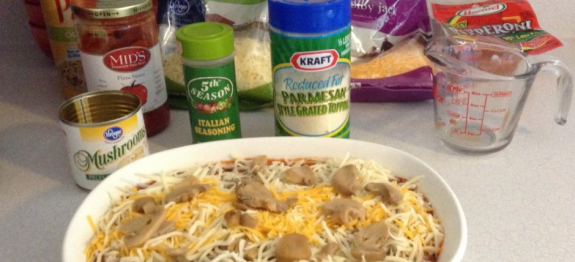 Prep Time :

0m

Cook Time :

0m

Ready In :

0m
Ninja Pizza Recipe adapted from Betty Crocker 4 ingredient pizza.
Ingredients I used:
15 oz. Bisquick
1 C. Water
7 to 8 oz of pizza sauce
2 C. Shredded cHeese (I used mozzerella & Colby/jack)
1 small can mushrooms
Italian seasoning
Grated Parmesan
1 bag Morning Star Crumbles
Directions
Spray pan that will fit on Ninja rack with cooking spray. (I used a 1 1/2 Qt. Corning ware pan)
Heat Crumbles in microwave for 3 mins.
Mix Bisquick & 1 C. Water until soft dough ball forms.
Spread 1/2 Of dough in sprayed pan,
Drizzle 1/2 of pizza sauce on top of dough,
Place 1/2 of crumbles on top of sauce,
Sprinkle with Italian seasoning,
Sprinkle 1/2 of cheese on top of crumbles,
Sprinkle grated Parmesan on top of crumbles (to taste)'
Spread 1/2 of mushrooms on top.
Repeat all ingredients in same order for a second layer.
Pour 2 C. Water in Ninja,
Place rack in Ninja and place pizza pan on rack.
Put on the lid and cover vent ( I used an Ove Glove)
Bake on oven setting at 375 for 30 minutes.
Do not tilt lid when removing to avoid steam droplets dropping into pizza.
Use Ove Gloves to remove pan from Ninja.
Let set for a few mins. To firm up and ENJOY!
This is easy and turned out exceptionally well.