Ravioli Lasagna
2015-01-04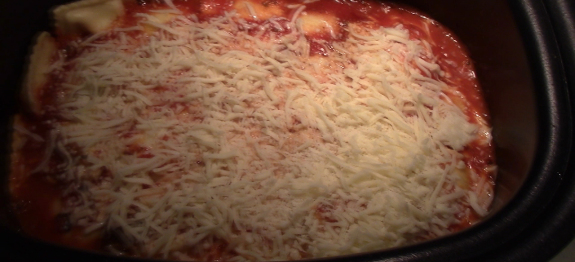 Servings :

6

Prep Time :

10m

Cook Time :

25m

Ready In :

0m
Ravioli Lasagna
Ingredients
vegetable oil cooking spray
2 3/4 cups (1 jar)  Italian sausage & Garlic pasta sauce 
1/2 cup water
1 package frozen cheese ravioli (24 – 30 oz) 
1 1/2 cups shredded mozzarella cheese
grated cheese and parsley, optional as garnish
Directions:
spray ninja with cooking spray.
stir the sauce and water in a large bowl. spread 1 cup of sauce in the bottom of ninja. top with 1/2 the ravioli (1 Layer). 3/4 c of the mozzarella cheese and 1 cup of the sauce. top with remaining ravioli and sauce, and cover.
Use OVEN setting at 300, bake for 25 mins, uncover the dish and top with remaining cheese.
let sit for 10 more mins or until hot and bubbly. take out. let stand 10 mins before serving.
garnish with parm cheese and parsley (optional).