Blueberry Oatmeal Bars
2014-03-17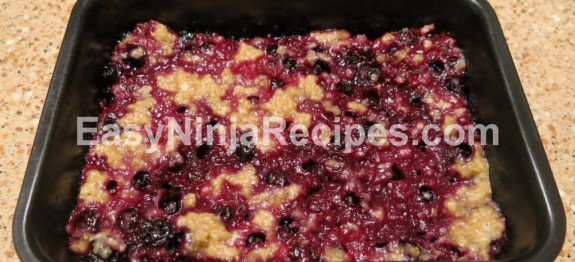 Servings :

6

Prep Time :

10m

Cook Time :

45m

Ready In :

0m
Submitted by: Mary Director
These are NOT a sweet bar, but for more for those who are eating healthy and want to cut back on calories, sugar and fat.  Recipe is from my Ninja Cooking System cookbook. I do not know how this would turn out in the oven as it is steam baked.
Ingredients
cooking spray
1/4 c butter, melted
1/2 c packed brown sugar
1 medium egg
1 tsp vanilla extract
3/4 c quick oats
1/2 c all purpose flour
1/8 tsp salt
3/4 c fresh or frozen blueberries, mine were thawed out
2 c water for steaming baking in ninja
Directions
1. 1 Ninja Cooking System to steam bake your bars.
2. Spray multipurpose pan with cooking spray and set aside. Stir butter, brown sugar, egg, and vanilla in a medium bowl. Now add your oats, flour, salt and blueberries. Stir till well combined.
3. Pour into pan. Next, add your 2 cups of water to your Ninja and set the rack down inside. Place your multipurpose pan on the rack.
4. Set to OVEN at 400 F. for 40 – 45 minutes. Cover & cook till set in center & lightly browned at edges. ~~~Steam cooked bars to perfection.~~~~
5. Remove pan from Ninja, place on a cooling rack for about 10 minutes or so.