Doritos Taco Pie
2014-03-16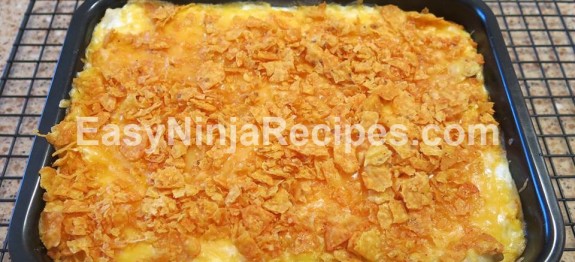 Prep Time :

0m

Cook Time :

0m

Ready In :

0m
Contributed by Mary D. 
Ingredients:
1 lb extra lean ground beef
1 pkg taco seasoning mix
½ cup water
1 can crescent roll mix (I used 6 of the 8 crescents in it)
1 cup sour cream
1 ¼ cup shredded Colby Jack Cheese (your favorite is fine)
2 cups crushed Doritos (measure AFTER crushing)
¼ cup Salsa Verde (but any type should be fine)
NO BUTTER
Instructions:
1. On Stove Top High, cook your ground beef in the main cooking pot.
2. Drain the ground beef.
3. Add taco seasoning and water, mix well.
4. Bring to a boil then simmer for about 5 minutes. I did drain the excess juices off the meat after the 5 minutes.
5. Remove from the main cooking pot and set aside.
6. Wipe out the main cooking pot with paper towels to clean out before doing the baking part.
Now using the Multi-Purpose Pan:
1. Separate the crescent dough into squares and press into the pan.
2. Where there are serrated parts, pinch/press together to make single layer keeping most of it on the bottom of the pan not up the sides.
3. Sprinkle 1 cup of crushed Doritos into the dough, then press into the dough.
4. Spoon the ground beef mixture over the dough and Doritos … even out with a spoon.
5. Mix sour cream and salsa together, then spread over the meat layer.
6. Next layer in the shredded cheese as evenly as possible.
7. Top with the remaining crushed Doritos.
8. Put pan on the roasting rack in the Ninja
9. Bake at 400 degrees for 25 minutes.