Easy Oven-Baked Cheeseburger Sliders
2014-04-23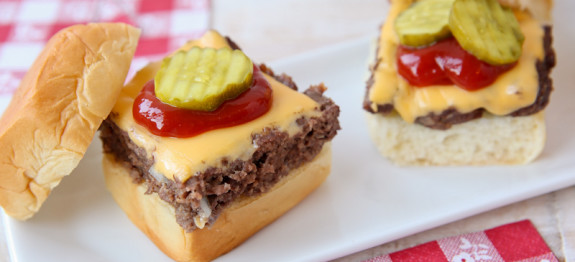 Prep Time :

0m

Cook Time :

0m

Ready In :

0m
Easy Oven-Baked Cheeseburger Sliders
Adapted for the ninja, based on this recipe http://www.betterrecipes.com/blogs/daily-dish/2013/05/29/easy-cheeseburger-sliders/
Ingredients
1 pound, 93% lean ground sirloin
1/8 cup seasoned bread crumbs
1/3 cup chopped onions
dash of salt
1 package (12-count) Kings Hawaiian sweet dinner rolls (or slider buns)
 slices cheddar or American cheese
Directions
Heat Ninja on Oven to 400 degrees.   In a bowl, combine beef, bread crumbs, onion, and salt.
Gently press mixture into the 6 x 9 inch baking pan so that it makes one large patty of even thickness.  Use the tines of a fork to poke holes throughout the meat.  Bake for 25 minutes.
As it bakes, the meat will shrink away from the sides and liquid will accumulate around the edges of pan.
When fully cooked, remove the pan from oven (keep oven turned on) and carefully drain off the liquid.
Top the meat with an even layer of sliced cheese;
return pan to oven for about 4 minutes or until the cheese melts.  Remove from the oven and allow to rest for a few minutes.
Cut into 2-inch squares (or the size of the buns used),
Serve with dill pickle slices and ketchup.