Lentil Soup with Italian Sausage
2014-04-28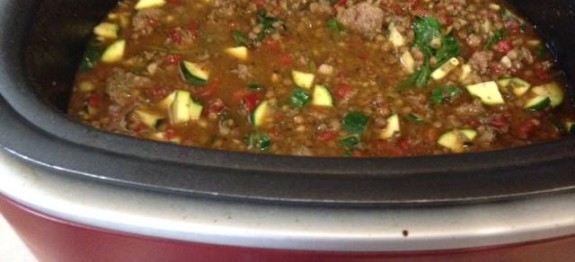 Prep Time :

0m

Cook Time :

0m

Ready In :

0m
Lentil Soup with Italian Sausage
Contributed by Barb Ruiz Rizzio-Meyer
 Ingredients
1 lb. Italian sausage, remove from casing or slice
2 tsp. olive oil (or more, depending on your pan)
1 onion, diced into small pieces
3 cloves garlic, minced
1 cup dried brown lentils
6-8 cups of homemade chicken stock (or 3 to 4 cans broth plus a little water)
2 tsp. ground fennel (do not leave out)
2 tsp. dried thyme
2 tsp. rubbed sage (dried)
dash of crushed red pepper, if desired
salt and pepper
1 12 oz. jar roasted red pepper
1 medium zucchini, diced
Kale or spinach, as much as you like (I usually do a little kale and then spinach since I find kale to be a bit bitter if you use too much)
Instructions:
Heat olive oil in Ninja on stovetop high, add Italian sausage and brown well, breaking sausage into pieces as it cooks. Remove sausage.
 In same pan, adding more oil if needed, brown onions until softened and barely starting to brown, add garlic and sauté for a minute. Switch to crockpot low and add broth, sausage, lentils, and herbs. Cook on crockpot low for about 3 hours, lentils will be soft.
 Drain red pepper, then chop peppers, zucchini and kale. Add veggies to soup and cook about 1 hour more, until some lentils are starting to fall apart and all flavors are well blended. Season with salt and fresh ground black pepper and serve hot.
 Alternately, I have thrown the veggies in the crock with everything else and cooked on low for 6-8 hours. This time I was home, so I added the veggies in later.
 It's good both ways.