Prime Rib Au Jus
2015-03-30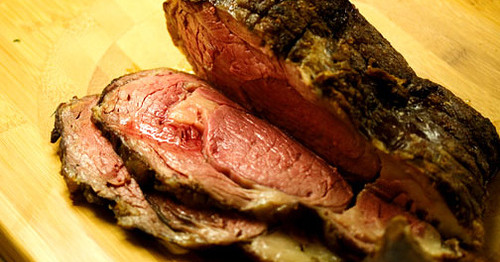 Servings :

4

Prep Time :

10m

Cook Time :

0m

Ready In :

0m
Ingredients
1 beef standing rib roast (about 5 pounds)
Salt and ground black pepper
1 tablespoon chopped fresh rosemary leaves
4 cups beef broth
1 tablespoon butter, softened
1 tablespoon all-purpose flour
Instructions
Season beef with salt, black pepper, and rosemary. Set pot to STOVETOP HIGH and heat pan.
Add beef and cook uncovered 10 minutes or until browned on all sides. Remove beef from pot.
Pour broth into pot. Place roasting rack into pot. Place beef on rack.
Set OVEN to 350°F for 1 hour. Cover and cook 1 hour for medium-rare or until desired doneness.
Remove beef to cutting board and cover with foil.
Stir butter and flour in bowl. Add butter mixture to pot.
Set to STOVETOP HIGH. Cook 10 minutes or until mixture is slightly reduced, stirring constantly. Serve sauce with beef.
Recipe from Ninja Kitchen here http://www.ninjakitchen.com/recipes/search/0/all/64/prime-rib-au-jus/#sthash.RkbU4SCa.dpuf