Slow Cooker Beef Enchiladas
2014-04-25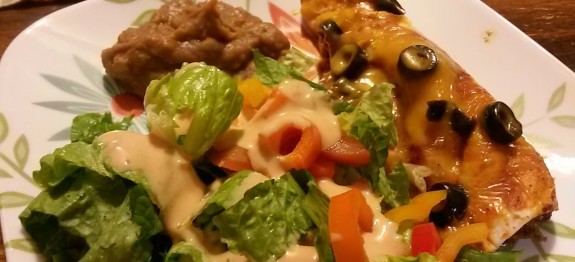 Prep Time :

0m

Cook Time :

0m

Ready In :

0m
Slow Cooker Beef Enchiladas
Contributed by Jenny Lee!
Ingredients
1 pound lean ground beef (chicken or turkey would work)
1 16oz can of red enchilada sauce (i used tex mex flavor)
1 4oz can of green chile peppers
1/2 tsp garlic powder
1 tsp cumin
1 tsp chili powder
1/2 tsp black pepper
1 1/2 cup shredded cheddar cheese (i used low fat)
6-8 taco sized flour tortillas (I used carb balance)
black olives (optional)
green onions (optional)
Directions
1. In large skillet or Ninja, cook ground beef, breaking up while cooking, drain fat if any.
2. Turn off heat when done and add spices and mix well.
3. Add green chile and 1/2 cup enchilada sauce mix well.
4. Lightly spray the bottom and sides of a slow cooker. Add a little enchilada sauce to the bottom of the insert with a little sprinkle of water to coat the bottom.
5. Place about 2 heaping TBL or so of meat mixture into a tortilla, add a pinch of shredded cheese and any options such as olives, green onion, regular onions etc and roll and place in the slow cooker. (the slow cooker I used is a rectangle and I could just line them along the bottom. If you have a round and have to stack, then make sure you layer with the enchilada sauce so they cook properly.)
6. Cover with the remainder of the enchilada sauce, sprinkle with the remaining cheese, put the lid on and cook on low 3 hours or so. In the ninja it wont need to go that long. In my particular rectangle slow cooker they were heated thru in under 2 hours.
Serve with sour cream, avocado etc
Oven Method: Preheat oven to 375. In a sprayed casserole dish, coat the dish with some enchilada sauce and a spinkle of water. Place stuffed enchiladas seem side down in the single layer. Cover with the enchilada sauce and cheese cover loosely with foil ad bake until hot and bubbly, approximately 30 minutes.