Tator Tot Casserole with Potato Crowns
2014-03-17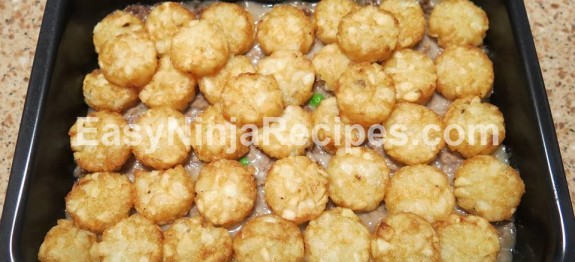 Servings :

6

Prep Time :

15m

Cook Time :

45m

Ready In :

0m
By: Mary Director
Ingredients
1 lb extra lean ground hamburger
1 can Cream of Mushroom Soup (do not dilute)
Onion, Parsley, Garlic (add according to taste)
1 cup Peas & Carrots Frozen
3 to 4 Cups Frozen Tater Tots (do not thaw)
Directions
Cooking Pot on high:
Use non-stick spray on Cooking Pot AND the Multi-Purpose Pan before using.
Brown and completely cook the hamburger, onion, parsley and garlic.
Turn off Ninja.
Drain meat.
Add the 1 can of Cream of Mushroom Soup and the 1 cup of Peas & Carrots. Mix well.
Pour this mixture into the Multi-Purpose Pan (spray with anti-stick spray first).
Wipe out Cooking Pot with paper towel – careful the pot will be warm.
Set the Roasting Rack into the Cooking Pot.
Multi-Purpose Pan: (spray with non-stick spray before using)
After you have added in the cooked mixture above, flatten it/even it out in the Multi-Purpose Pan.
Layer the frozen Tater Tots over the top.
Set this pan now on top of the Roasting Rack.
Set Ninja oven temperature to 375 degree and bake for 45 minutes. No need to add water to the Cooking Pot as this will not need to be steamed.
NOTES:
You could add in shredded cheese if wanted.
I used Tater Tot Frozen Microwave Crowns
If cooking for a family, double the recipe and cook completely in the Cooking Pot.
5 to 6 servings. Serve with a salad.