Easy Tamale Pie
2014-03-26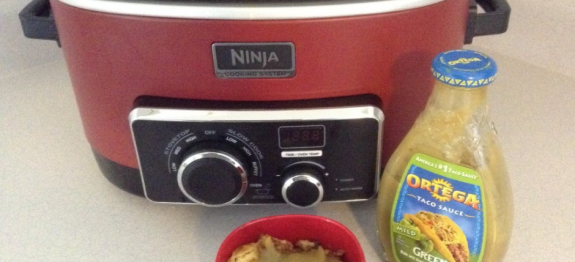 Prep Time :

15m

Cook Time :

25m

Ready In :

0m
Ingredients For topping:… 1 pouch cornbread & muffin mix (used Betty Crockers) 1/4 C fat free liquid egg substitute 3 Tbsp no sugar applesauce
For Pie: 1 12oz package Morning Star Farms Crumbles 1/2 C canned sweet corn, drained 1/2 C black beans 1/3 C chopped onion (I added a whole onion) 2 Tbsp taco sauce (I use 1/4 C green taco sauce) 1 tsp taco seasoning (I used 2 tsp Ortega) 1/2 tsp ground cummin (I used 1 tsp)
Mix together cornbread, egg sub., & applesauce and set aside.
Lightly spray Ninja pot with Pam,
once pan is heated cook onion & crumbles until crumbles are thawed.
Add in taco seasoning, cumin & 1/4 C water, stirring occasionally until water absorbed (about 2 mins).
Add taco sauce, corn and black beans (I used full cans of both) mix well and cook covered on skillet high for 6 to 8 mins, stir every 4 mins.
Remove lid and if still a bit runny looking, cook another 2 mins or so uncovered.
Spray pan that will fit in Ninja with Pam and spoon meat mixture into it.
Spread cornbread mixture on top of meat. Carefully lift out Ninja pot and rinse well, dry and put back in Ninja.
Add 2 1/2 C water to bottom of Nija, add rack. Place pan with pie in it on rack, cover and bake at 350 for 20 to 25 mins.
I checked at 20 mins & cornbread looked like it had risen, but no browning.
Did a toothpick test and covered again for another 4 mins.
Added a couple of heaping spoonfuls to my little bowl and added some green taco sauce, it is very, very good.
Enjoy the Tamale Pie!